MXGUARDDOG – World Class Email Protection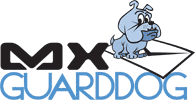 World-Class Email Protection without the World-Class Price Tag
MX Guarddog offers email protection to deal with modern email challenges.
Spam and virus protection for businesses, organizations, and Internet domain name owners.
MX Guarddog will filter incoming email, forwarding only clean email to your mailboxes – for free!
Put an End to Your Spam Problems
More than 97% of Internet e-mail is unwanted,according to a Microsoft security report.
As an email administrator, you have to deal with thousands or millions of spam messages. Unwanted messages overflow mailboxes with spam, viruses, and phishing attacks, which generate user complaints, virus outbreaks and consume server resources.
Click here to go to MXGUARDDOG website  for more information and registration details.